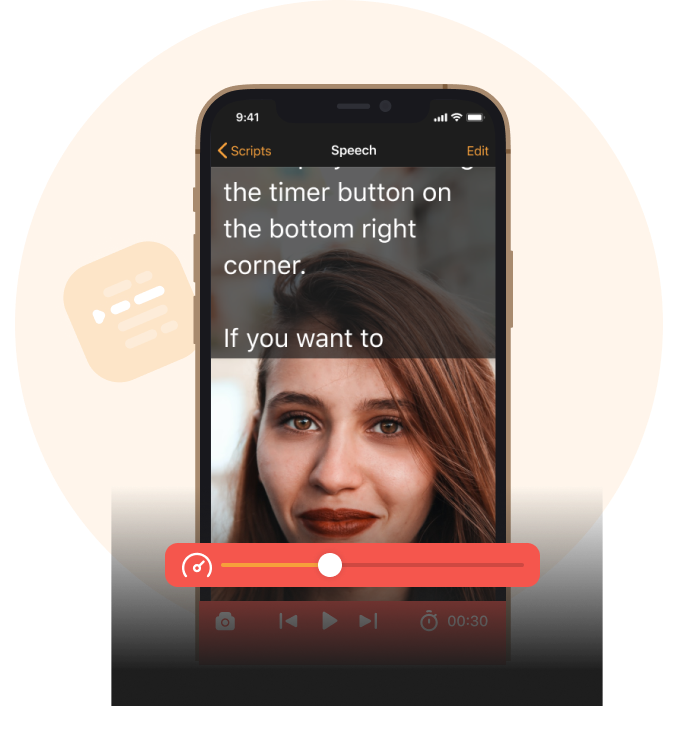 Why Use Our Free Teleprompter App?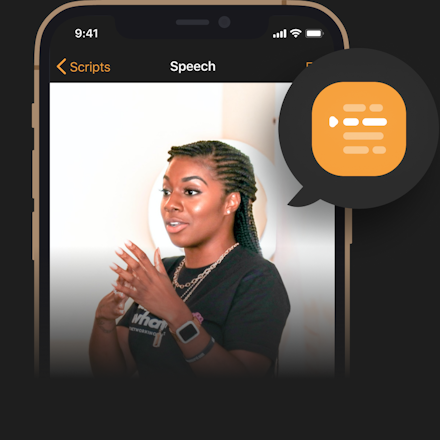 Get Started For Nothing
If you're new to video production or speaking in public, you may not want to invest hundreds of dollars in a full teleprompting kit. Teleprompter is completely free to download and use - and you won't waste your money if you decide not to embark on a speaking career after all.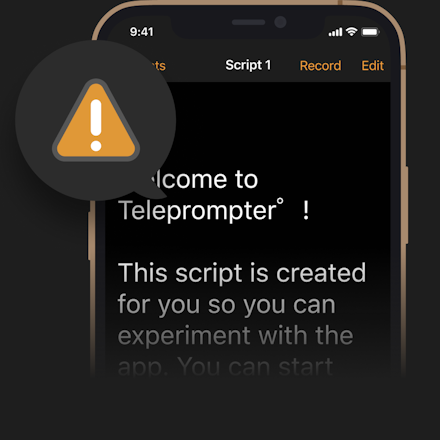 No Bulky Equipment Needed
Traditional teleprompting equipment isn't only expensive - it's also bulky and a hassle to transport to your speaking engagements. Our free teleprompter lets you access all the features you need from your mobile device, so there's no need to use additional recording or camera equipment.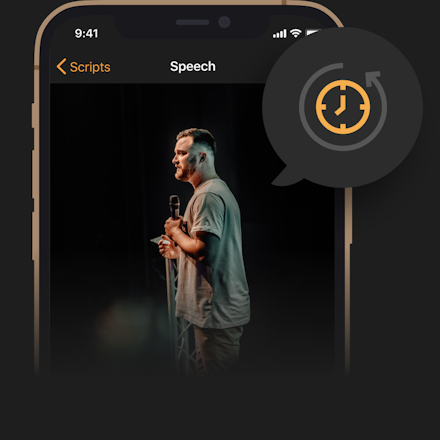 Enjoy Long-Term Saving
Owning traditional teleprompting gear can be costly in the long run. You may need to replace a broken camera lens, upgrade your equipment as technology changes, and invest in more complex gear for your requirements. Teleprompter is free and always will be - so there are no surprise costs down the line.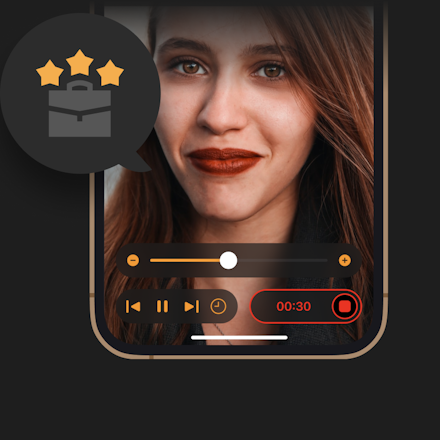 Get The Most From Your Experience
We're constantly updating Teleprompter to make it the best free teleprompting app available today. Many of our updates are made as a result of customer feedback - so if you'd like to see something new in the app, let us know! If you're looking for the best value, at no cost whatsoever, download Teleprompter.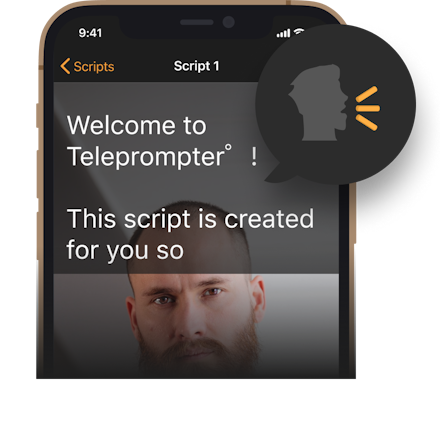 Improve Your Speaking Skills
You can use our free teleprompter software however you choose - and you can practice speeches as many times as you want before the real thing. If your speaking skills aren't up to scratch, you can record videos and watch them back to see where you could improve.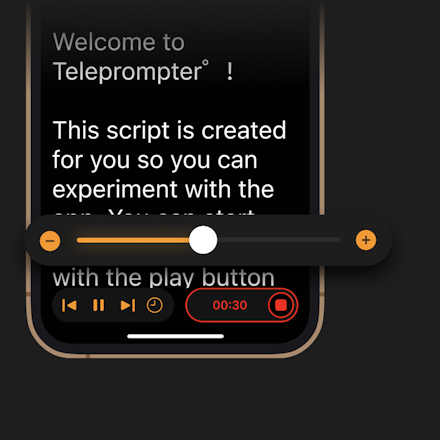 Enjoy A Range of Features
Some free teleprompter apps limit the features you have access to as a free user. Teleprompter does not do this. Speaking novices and experts alike should find all the features they need for recording videos, practicing speeches, and presenting at events. Teleprompter doesn't hold you back.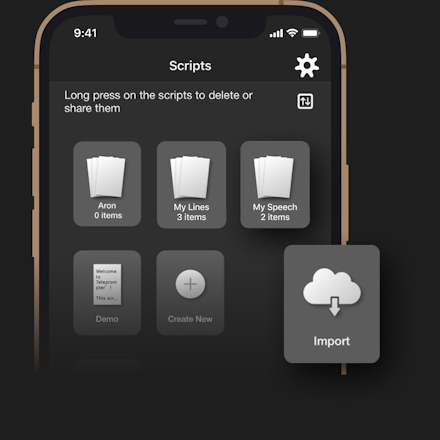 Import Unlimited Scripts
If your career involves regular public speaking, or you're a content creator with a weekly schedule for uploading YouTube videos, you'll benefit from being able to import unlimited scripts into Teleprompter. No matter how many scripts you write or videos you create, you can use Teleprompter as your go-to tool.
Tailor Your Script Delivery
Once you upload a script into our free teleprompter app, there's plenty you can do to ensure your delivery is just right. Adjust scroll speed to speak at the right pace, and change text size, color, and line spacing to read easily. You can amend your settings as many times as you like - for free.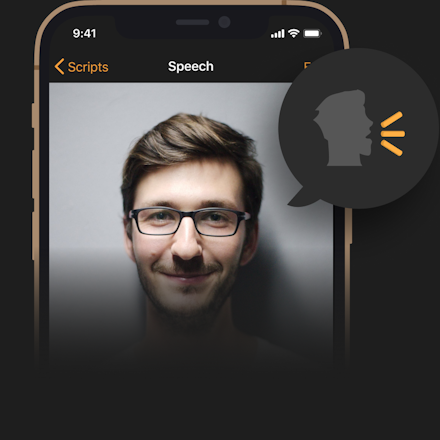 Speak Confidently & Coherently
Reading from notes is tricky, and reading from memory is even more of a challenge. With our teleprompter software, there's no pressure to remember your script word-for-word, as it's on the screen in front of you. This allows you to speak with clarity and confidence - and ultimately connect with your audience.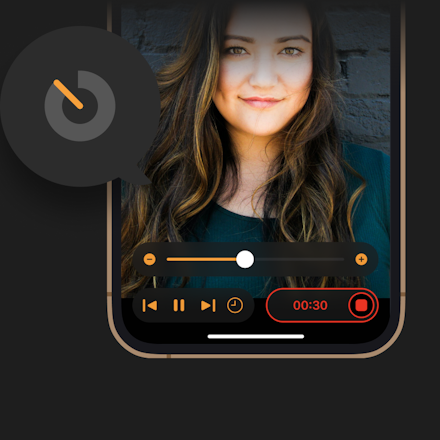 Get Started Immediately
There's no complicated sign-up process when you download Teleprompter. Simply visit the App Store and tap "download" to download Teleprompter for free. You can then tap the app on your home screen and create an account in a matter of minutes - no fuss, no hassle.
Teleprompter For Free: What To Know
Our free teleprompting software is far from basic. Teleprompter has many uses, features, and benefits, and we continue to improve the app based on feedback from people like you.
Who Can Use Teleprompter For Free?

Journalists
If you're a journalist looking to streamline your news reporting, Teleprompter is a free app that's well worth considering. You can use a Teleprompter with a teleprompter mirror if you'd prefer to film with professional camera gear.
Content Creators
Content creators looking to streamline their video production can benefit from our teleprompter software. Being a free app, Teleprompter is particularly ideal for budding YouTubers who aren't yet making money from their hobby and are looking to create video content on a budget.

Churches/ Religious Groups
Churches and religious organizations can use Teleprompter for a variety of occasions. Whether you want to stream sermons or ceremonies, connect with your community online, or read from a rolling script when speaking in church, Teleprompter is the free app for you.

Students
Speaking assignments can be particularly daunting for students. If you've got a class presentation coming up and want to practice in advance, use Teleprompter. It costs nothing - so it's suitable for even the tightest student budget!

Professional Public Speakers
If you're a professional public speaker looking to ditch your cue cards and speak more coherently, Teleprompter is for you. You can use the app to practice a speech in advance so that you can nail your delivery on the big day.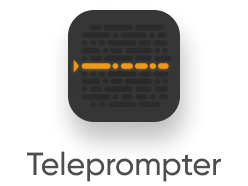 Why Use Teleprompter?
There are lots of teleprompter apps out there, but not all of them are as versatile, professional, and adaptable as Teleprompter.
Every feature and function in Teleprompter is designed to streamline your video production or public speaking experience.
Record audio and save your speech as an audio file, or sync the app to your camera for video recording. Save and share files to another device for free.
Adjust scroll speed with just a few taps, and read from a rolling script on-screen to make direct eye contact with your online audience. Switch between screen modes - including full screen - and take full control of your camera angle.
You can use Teleropmpter on various operating systems, and you don't need an internet connection (unless you're live-streaming videos).
Download Teleprompter and access a wealth of features, including:
Importing of PDF, Word, and Txt files from the Cloud
Customizable script scrolling speed
Access on multiple devices: iPhone, iPad, etc.
Amend text color and size, and text background color
Option to control from any device on your WiFi network
Script sharing between devices & edit scripts in-app
Adjustable playback speed and time
Syncs to Apple Watch
Video sharing on social media
Video sharing on social media
Bluetooth keyboard can be used as a remote control during playback
Customizable keyboard shortcuts
Making videos or preparing scripts for presentations can be both daunting and challenging. Not everyone is naturally comfortable in front of a camera or a crowd. Teleprompter helps you to feel well-prepared and confident in your ability to succeed in your speaking endeavor.