Speech Teleprompter for Public Speaking Engagements
Download Teleprompter to deliver public speeches with clarity and confidence.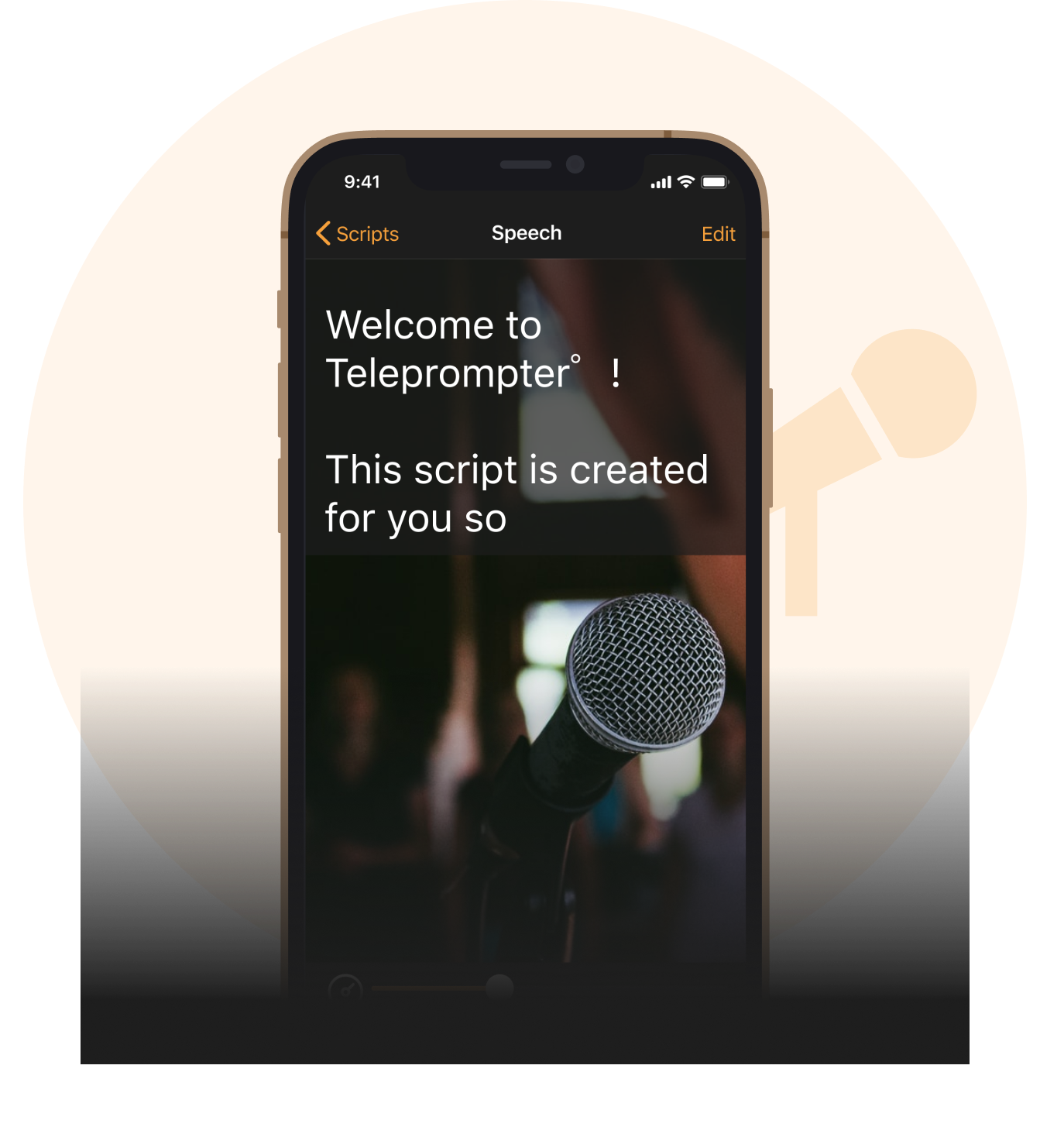 Why Choose Teleprompter For Public Speaking?
Whether you clam up at the thought of speaking in front of a crowd, or you're a confident speaker who just wants to make a bigger impact when presenting, you'll benefit from using Teleprompter.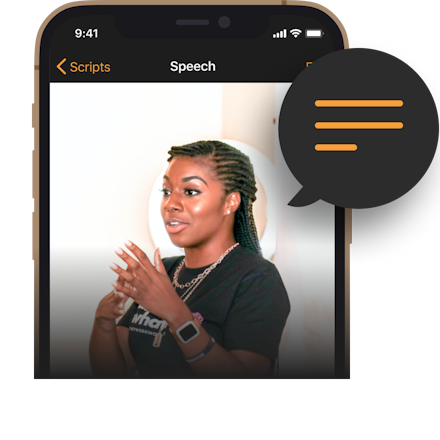 Connect With Your Audience
Having to keep glancing down at your notes can ruin your flow and take away from the words you're saying. Using our speech teleprompter app allows you to make eye contact with your audience, enabling you to connect with crowds on a deeper level.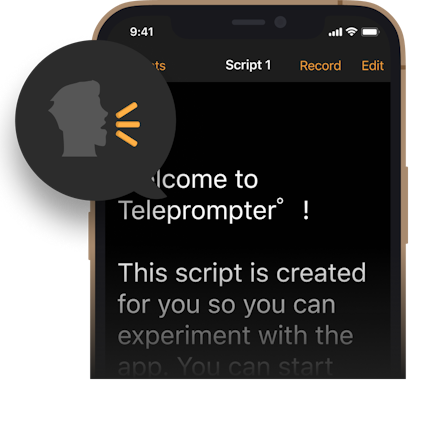 Deliver Your Full Message
Got to fit your speech into a specific time slot? Avoid rambling and drifting off-topic and get straight to the point with Teleprompter. Practice script delivery in advance and be confident that your speech will comfortably fit within the allotted time.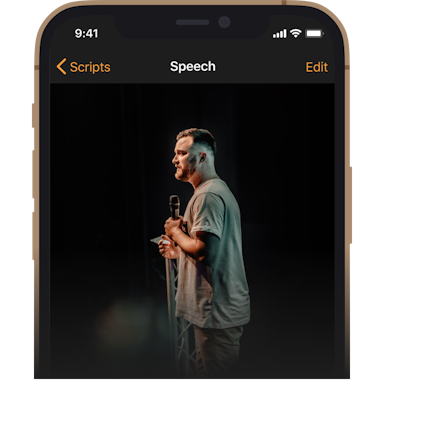 No Need to Memorize
Many public speakers attempt to memorize their speeches ahead of time to offer the clearest delivery. But it's easy to forget the essential points in the moment. Teleprompter delivers your script in real-time, making memorization unnecessary.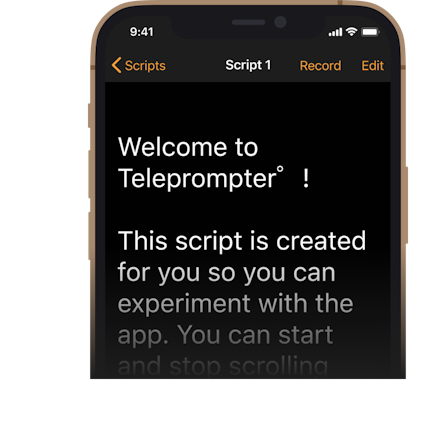 Boost Speaking Confidence
Want to come across as a professional but worried your nerves will let you down? Our speech teleprompter software can help you confidently deliver your speech. If your brain goes blank in a moment of stage fright, you can simply read from your script.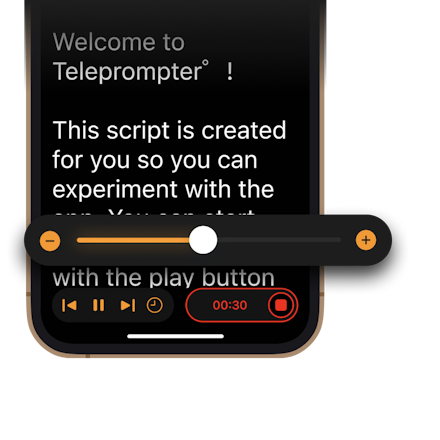 Perfect Delivery With Adjustable Scroll Speed
Teleprompter makes it easy to adjust scroll speed manually - not only so you can keep up with your script but also allow you to perfect your delivery. Speed up or slow down scroll speed to make an impact and allow your audience thinking time.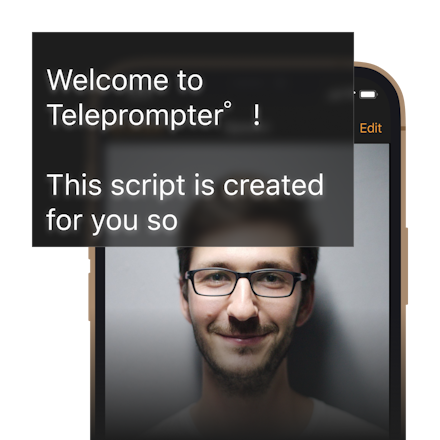 Livestream Video Speeches
Teleprompter syncs with your device's camera, letting you record speeches to an online audience. Viewing your rolling script on your phone screen means you'll never have to look down for your notes. Your audience may not even know you're using a teleprompter.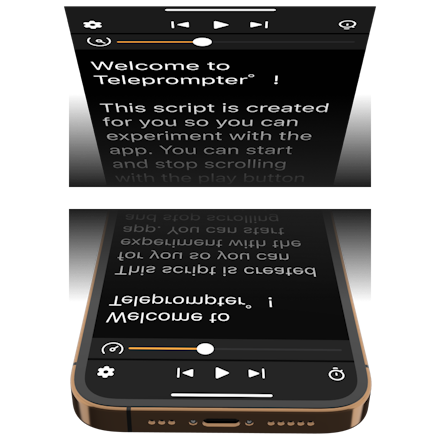 No Bulky Gear Needed
If you're traveling to attend events across the country, taking bulky teleprompter gear on the road isn't convenient. Access our teleprompter software directly from your phone or tablet - no mirror, stand, or monitors needed.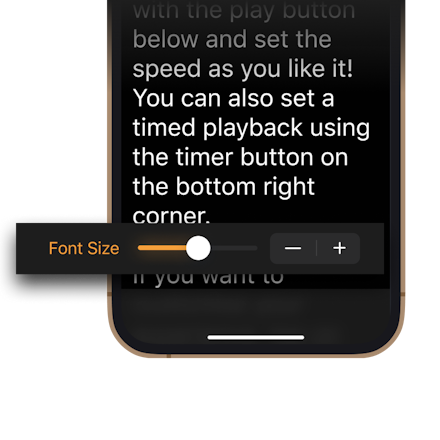 Adjust Font Size & Line Space
Delivering the perfect speech is possible with Teleprompter - but only when your settings are suited to you. You can adjust the font size and line spacing in your script to allow for comfortable real-time reading from your phone screen.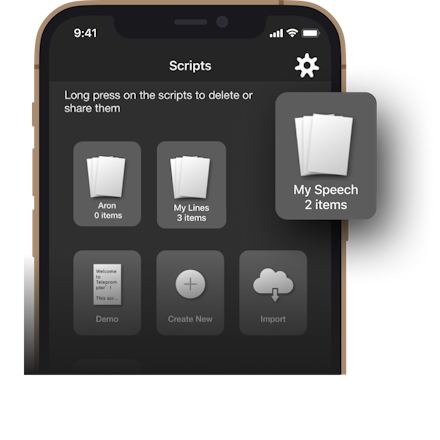 Edit Your Script to Perfection
Teleprompter makes it easy to practice reading from your script in advance. Treat your practice sessions as if they're the real thing, working on speed, structure, and tone of voice. Spotted a mistake in your script? Don't panic - you can edit it directly in the app.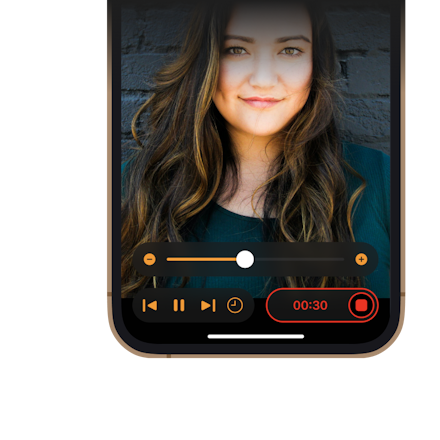 Make Speeches from a Distance
It's simpler than ever to connect with a virtual audience with our speech teleprompter app. You don't have to be in the room to make an impact - just record a video in advance or live stream it to a speaking event with the touch of a button.
About Teleprompter For Public Speaking
There are many critical factors to a good speech: connecting with your audience, giving your message the right tone, structuring your points in the correct order, and ultimately leaving your audience wanting more.
Trying to focus on achieving all of these goals while speaking from memory or working through a hard copy of notes is an intensely challenging task, even for an expert speaker. That's where Teleprompter can help.
Using our speech teleprompter, you can read directly from a pre-written script, ensuring you don't forget your essential points. Without the extra challenge of speaking from memory, you can focus on your delivery, including your tone of voice, emphasis on certain words, and pauses for reflection.
Whether you're a seasoned public speaker, a student tasked with a public speaking assignment, or a hobbyist keen to master the art of public speaking, Teleprompter can help you to achieve your goals. You can import your script into the app as early as you wish, giving you plenty of time to practice your speech and work on the best delivery for winning over your audience.
Teleprompter isn't just for face-to-face speeches to a room full of listeners. You can also use Teleprompter for virtual public speaking events. Live stream directly from the app, reading from the rolling script on your phone screen. You won't have to glance down at your notes, so you can make eye contact with your online audience and make them feel like you're in the room with them.
There are plenty of valuable tools to make the most of in our Speech Teleprompter. Adjusting the font size, line spacing, and scroll speed mean you can tailor our speech teleprompter app to suit your delivery. Whether you want to make people laugh, evoke a particular emotion, or simply make an impact.
Some of the most popular uses of the app are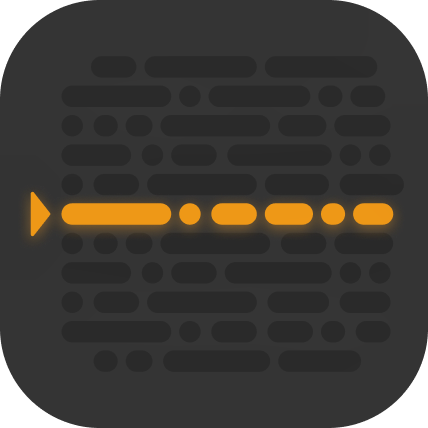 Teleprompter
To record speeches at events
To present in front of a live audience
To live stream a speech at a virtual event
To practice speeches ahead of an occasion
To conduct remote speaking sessions with multiple speakers