Create Professional, Streamlined Videos on Your iPad Pro with Teleprompter
Free, Easy-Use, Portable Teleprompter App for iPad.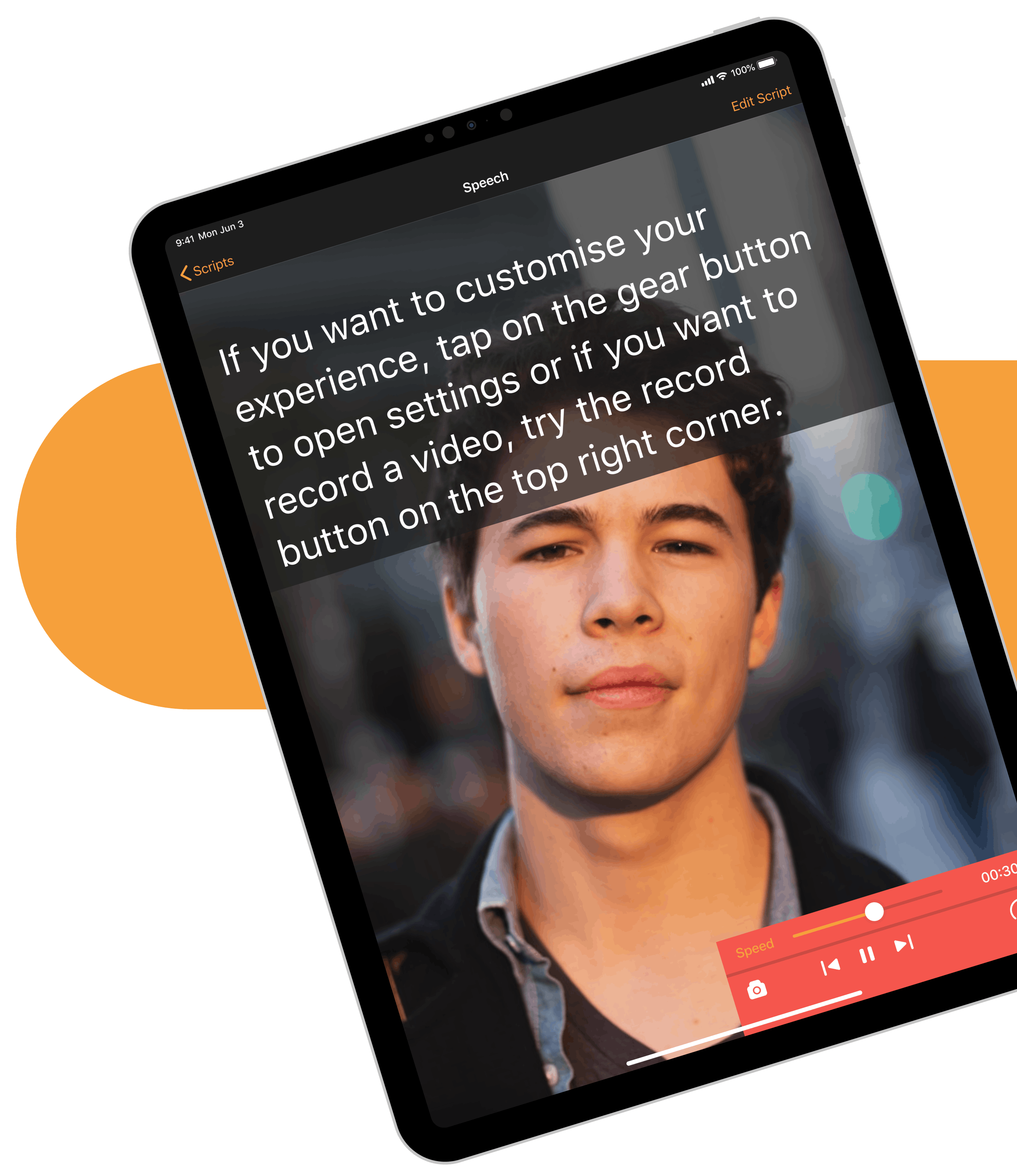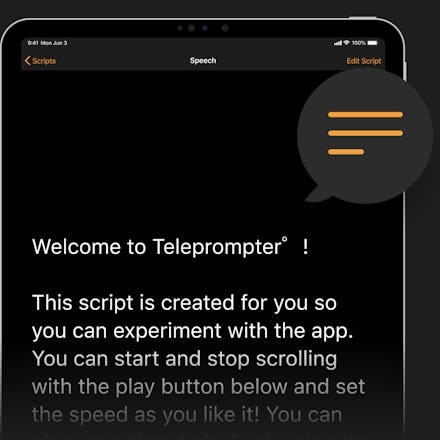 Use For Any Purpose
Like any good teleprompter app, Teleprompter can be used for all manner of purposes. Whether you're venturing into public speaking, you're a student practicing for a spoken test, you're looking to record your church sermons, or you just want to read from a rolling script or lyrics, Teleprompter offers everything you need.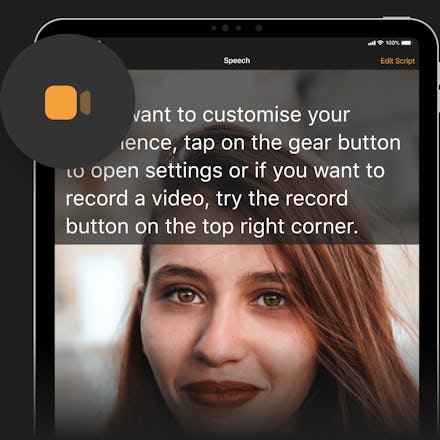 Create Professional Videos
The iPad Pro is one of the best devices for creating video content - especially with the right iPad app. Teleprompter syncs up with your camera, enabling you to record professional-quality videos for work or a side-hobby effortlessly.
Customize For Optimum Delivery
Our teleprompter iPad Pro app is fully customizable to best suit your requirements. You can change text size, text color, background color, and scrolling speed with just a few taps. Use Teleprompter your way, tailoring your features to cater to your preferences.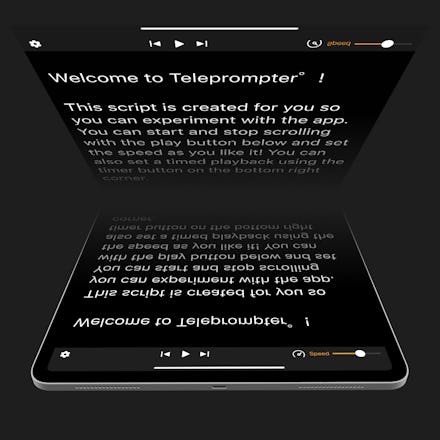 Easily Switch Modes
Teleprompter can be used in a number of modes: mirror mode (for setup in teleprompter rigs), presentation mode, and selfie mode. It's quick and easy to switch between screen modes to suit whatever project you're working on in the present.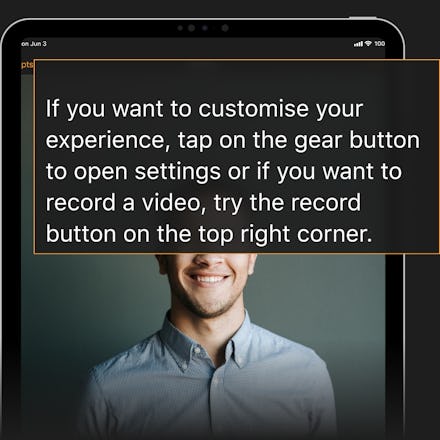 Enjoy An All-In-One Solution
Teleprompter is designed to offer an all-in-one teleprompting solution for iPad Pro users. Because the app displays your rolling script directly onto your iPad Pro's screen, you don't need expensive recording equipment, paper scripts, or glass mirrors for the job.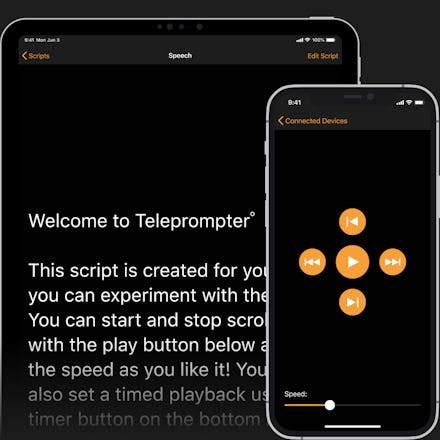 Use Remotely
Our professional teleprompter system is fully portable - you just need your iPad Pro. As long as you've got a means of charging your iPad Pro, you can take Telepromopter with you to speaking engagements and events all over the world. Setup takes less than two minutes.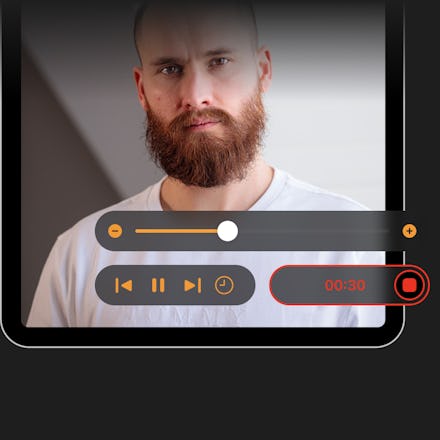 No Crew Required
You don't need a willing friend or partner to help you record speeches and videos on Teleprompter. Our iPad Pro app is designed to be operated by a single person. You have complete control over everything, including your camera angle, script edits, scroll speed, and more.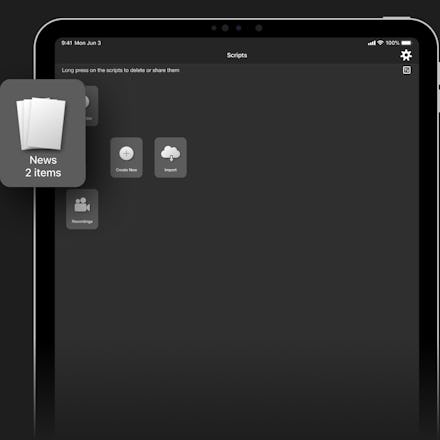 Practice Makes Perfect
With Teleprompter, you can practice your speech or video for as long as you like before the real thing. Record videos and save them to your iPad Pro's internal storage, then watch them back and make improvements to the script, tone of voice, and delivery speed.
How Teleprompter for iPad Pro Works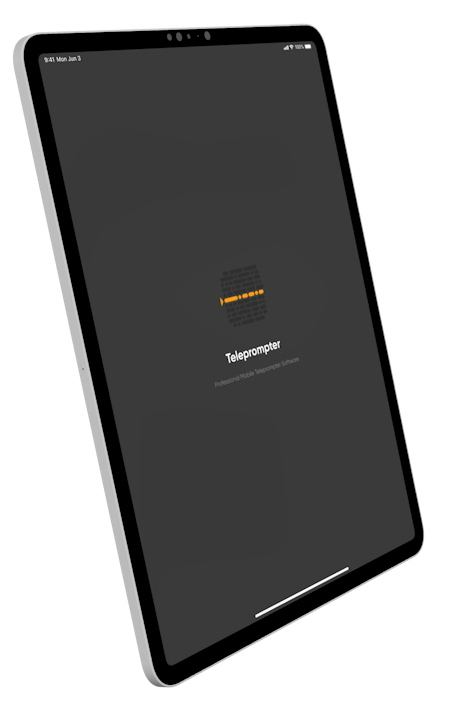 Download the App
Ready to download Teleprompter on your iPad? You'll be happy to know that setting up our teleprompter app is simple and takes just a few minutes from start to finish.
Teleprompter is free - no in-app purchase required. Simply visit The App Store and search Teleprompter, or click here to make sure you're downloading the right app.
Some of Teleprompter's most
Notable features
Use Bluetooth wireless keyboard remote control during playback
Customize text color and size, scrolling speed, and text background-color
Sync to device camera for video recording
Control the app from any device connected to a WiFi network
Import Text, Word, and PDF files from the cloud
Edit scripts in-app
Customize keyboard shortcuts
Set playback speed and time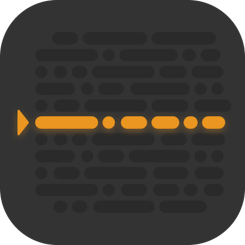 Teleprompter
About Teleprompter for iPad Pro
Using Telepromopter on your iPad Pro offers the highest quality video production experience. Playback your recordings in crystal-clear quality, and export from the app when you're ready to share your content with the world.
It's easy to read from a script when you have complete control over text style, size and color, line spacing, and scrolling speed. Choose your preferred screen mode and read from the text in front of you to better connect with your audience.
With Teleprompter, you can enjoy all the options you're looking for at no cost whatsoever. The unpaid version of our app isn't restrictive, no matter how you hope to use it. Read more
Ready to get started with Teleprompter? Click here to download our teleprompter app for your iPad Pro.