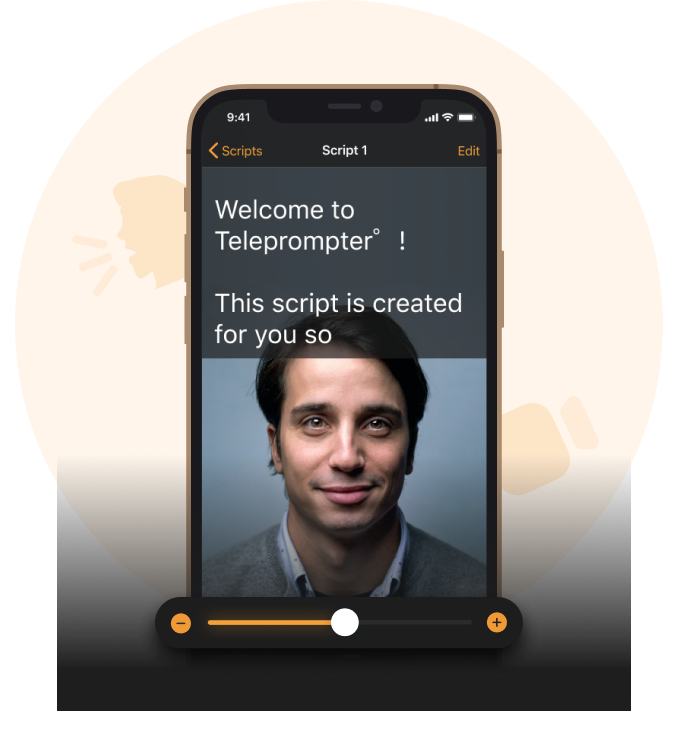 Why Use Teleprompter on your iPhone?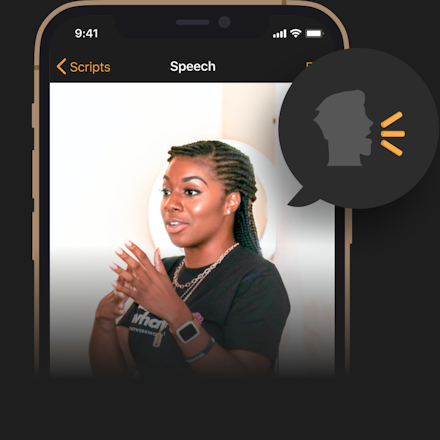 Speak With Confidence
Using Teleprompter on your iPhone can make recording speeches and videos a breeze. No more worrying about forgetting your lines or freezing mid-video - your script is right in front of you on the screen. If you're still getting used to speaking on camera, Teleprompter will help to boost your speaking confidence.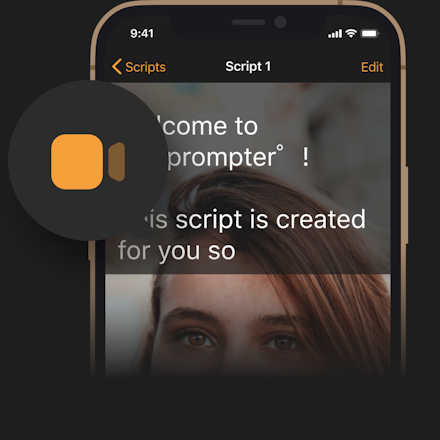 Record Professional Videos
Teleprompter makes it easy to record high-quality, polished videos on your iPhone. As one of the best teleprompter apps for professionals, Teleprompter syncs up to your camera, allowing you to record crisp, clear videos for any purpose effortlessly.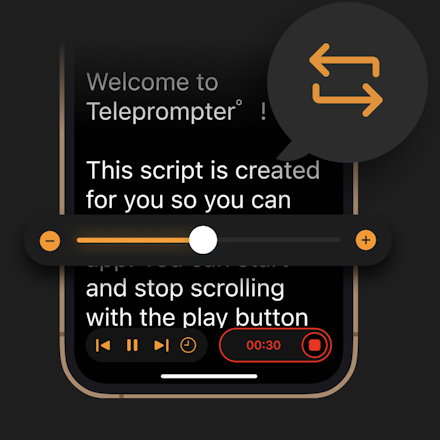 Alter Your Script Settings
Our video teleprompter app for iPhone allows you to customize your script settings to suit your needs fully. Read fluidly with custom font size, text color, background color, line spacing, and scroll speed. It takes less than a minute to tailor your settings on Teleprompter.
Compose Unlimited Scripts
Plan to use Teleprompter regularly? You can compose and manage unlimited scripts on our video teleprompter app. Let your creativity run wild and write scripts directly into the app, or import them as Txt, Word, or PDF files from the Cloud. Edit scripts with just a few taps.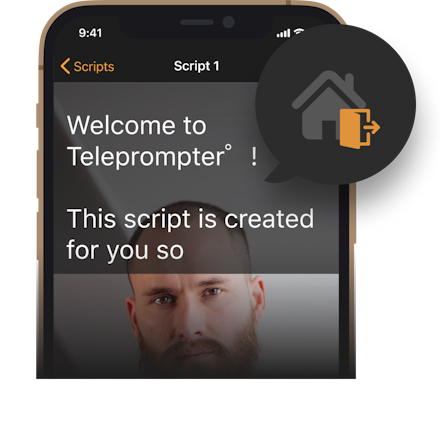 Leave Your Equipment At Home
Our teleprompter iPhone app offers everything you need in a teleprompter - and it's all contained within a single platform. Once you download Teleprompter, you don't need anything else - no expensive cameras, teleprompter glass, or bulky support gear. You can record videos and read from your script directly on the app.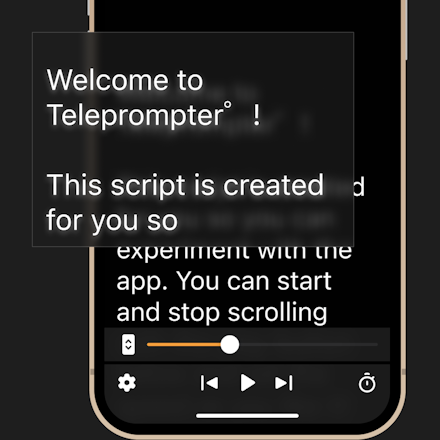 Practice In Advance
Want to practice your speech in a setting that feels like the real thing? Use Teleprompter to prepare yourself for the big event. Check for script issues and edit them ahead of time. You can even record yourself on camera and preview your performance to know how to improve your delivery.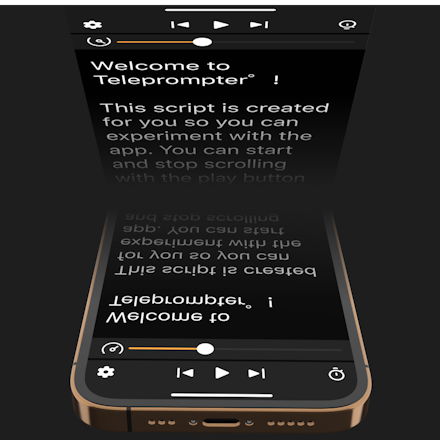 Take Teleprompter With You
You can use Teleprompter anywhere in the world - as long as you have your iPhone. Whether you're attending a public speaking event, making YouTube videos on the go, or simply practicing your speeches while you're traveling, you can bring our mobile teleprompter with you in your pocket.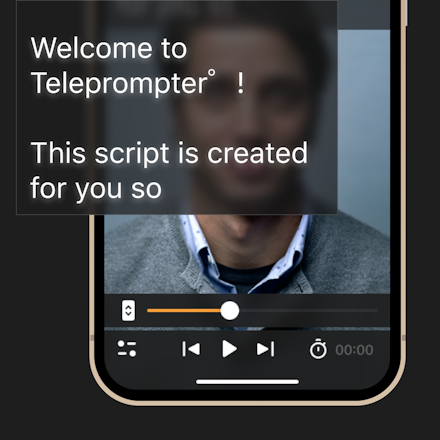 Speak Directly To Your Audience
When you use Teleprompter on your iPhone, you can leave handwritten notes in the past. Write your entire script and import it into Teleprompter, then read directly from your phone screen, making all-important eye contact with your audience. No one will even know you're using a script.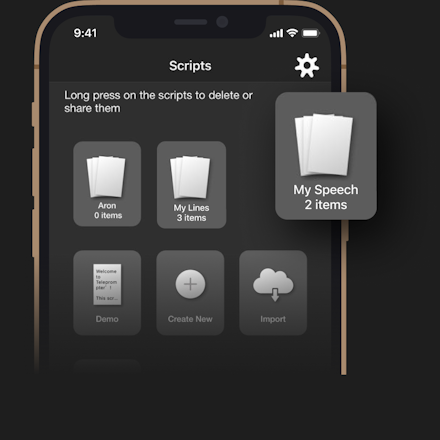 Enjoy Teleprompter For Free
The best thing about Teleprompter? It's free to download and enjoy. You can make the most of all Teleprompoter's best features without having to pay a penny. Unlike some teleprompter apps, our free iPhone app doesn't restrict your options or make you pay to access valuable features.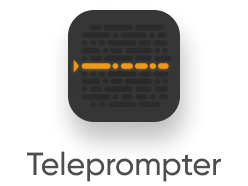 How Teleprompter for iPhones Works
If you're making a video or speaking in front of an audience, you'll know how important it is to have your notes with you. 
But what if, rather than having to glance down at a piece of paper, you could read from a rolling script on your iPhone? This is easy to do with Teleprompter. 
Our portable video teleprompter app lets you create a speech or script in advance and upload it straight onto the app - no need to write notes on index cards or print your speech on paper. 
Just a few of Teleprompter's most notable features and benefits are as follows:
Customize scrolling speed, text color and size, and text background-color
Use on iPhone, iPad, and iPod Touch
Sync to camera for recording videos
Control the app from any device connected to your WiFi network
Import Word, Txt, and PDF files from the Cloud
Edit scripts in-app and share scripts between devices
Works in both landscape and portrait modes
Share videos
Save videos to your device storage
Countdown timer counts you in
Set playback speed and time
Insert cue points to section off your script
Sync to Apple Watch
Use Bluetooth keyboard as a remote control during playback
Customizable keyboard shortcuts
When you download Teleprompter on your iPhone, you'll have access to everything you need from your mobile device, at no cost whatsoever.